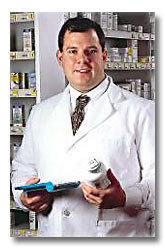 Pharmacists/Techs
We are professionals providing staffing support exclusively for the Pharmacy Industry: Primarily Retail, Hospital, Home Infusions, Managed Care and LTC.
Since it's inception in 1991, SubStaff found new career opportunities for over 1300 health care professionals.
We pride ourselves in matching your skills and experiences to permanent and temporary career opportunities that are rewarding, provide top-level compensation, and are often close to home.
We operate on a strictly confidential basis, and will never disclose your identity without your consent.
Let our experienced search consultants match you up with your next career opportunity. Whether it's a 2 (two) week per diem assignment, or the permanent position you retire with, let SubStaff play a part in helping you uncover the "hidden" jobs everyone else seems to find.
After we learn about you and your career goals, we begin to search and identify opportunities that closely match your skills and aspirations. With our computerized matching system, and extensive regional contacts, we can open doors you never knew existed.
We will offer you with only those opportunities that fit your guidelines, and then schedule phone and personal interviews for the positions you tell us to. We will even help you negotiate for the best compensation package and sign on bonus.
Throughout the process, you come first. Your recruiter will keep you informed and make sure any questions you have are answered promptly.
Get Started Today!
Simply call today 1-888-397-8233, fill out our brief application or E-mail your resume. Let us do the rest.
There┤s absolutely no cost, risk, or obligation on your part.
Programs
Permanent Positions Available
See our list of open jobs here
Per Diem Positions Available
See our list of positions here
Send us your Resume! E-mail jobs@substaff.com , or fax us atů

If you don't have the Acrobat reader, go here.
Apply On-Line
Fill out the online form or print and fax a .PDF file