Jeff and Carol's 48/10 + Canada Ride May 27th, 2008
Prologue
What exactly is the 48-10 and why would anyone want to do it? This seemed to be the common question that was asked as we attempted to explain to friends and family what we wanted to attempt. The planning for this trip began in November of 2007. We needed to select the date for the trip and select capable helpers to help care for our two youngest children and our multiple pets. We needed to select a date when it wouldn't be too hot and when it wouldn't be too cold in certain areas of the country where the mountain passes could still have snow/ice. We finally decided on the week before school gets out for summer. This would have as leaving the day after Memorial Day.
Planning and routing was a process that was mostly performed by Jeff. The first step was to actually make sure we rode in each state. The first couple attempts at routing found us missing a few states and traveling to some parts of the country three times. Help from other long distance riders, Mike Tomsu especially, and perseverance finally paid off and a route was developed.
The next step was to devise a system to make sure we actually collected a verifiable receipt from each state. A business card holder with exactly 48 slots was our solution. As we stopped in each state, it would be my job to make sure we had a receipt that contained all of the necessary information: date, time, city and state. I would also be responsible for noting the odometer reading and mileage. Making sure to keep the receipt book with me at all times would be critical. It would be awful to complete the trip and be missing a receipt from one of the states.
Lastly, after much discussion, we decided to purchase the "SPOT Locator". This proved to be a great way for friends and family to follow our progress and also give us peace of mind in case we get ourselves into trouble. Now, it was simply convincing people that we really weren't crazy and we were actually looking forward to this trip.
Day 1 May 27, 2008
Our plan was to be up at and out the door by . Jeff and I both awoke at , unable to sleep. After a brief "birthday celebration" we were up and out the door. Our first stop was the Shorewood Mobile gas station. We logged in at . Our 2004 BMW R1150RT had 42,061 miles on it at the start. Off to the next stop. The weather was quite cold as we began our journey. Nothing eventful happened as we made our way to Sparta, WI for our next stop. This was at .
As we rode in Minnesota, not only had the temperature dropped by 5 degrees, but it was also starting to rain. This rain and cold followed us for the remainder of the day as we went through Iowa, Missouri, Kansas and Nebraska. We finally pulled out of the rain and into a Taco John's in Grand Island, Nebraska for our first actual meal of the day. We had about two hours left until our final stop for the night In Ogalla, Nebraska. When we arrived in Ogalla, the rain had finally stopped. It was . Our first day was complete. Our first 1099 miles were complete, without incident. We checked into a Days Inn, unpacked, showered and off to sleep.
<![if !vml]>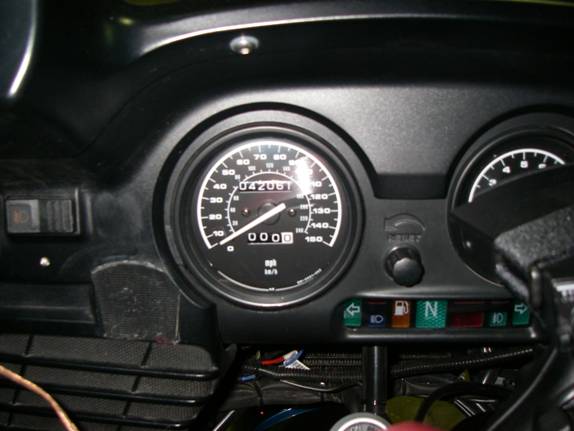 <![endif]>
Day 2 May 28, 2008
Day 2 began at . Our Screaming Meanie jolted us both out of bed. By , we were back on the bike and ready for the next adventure.
<![if !vml]>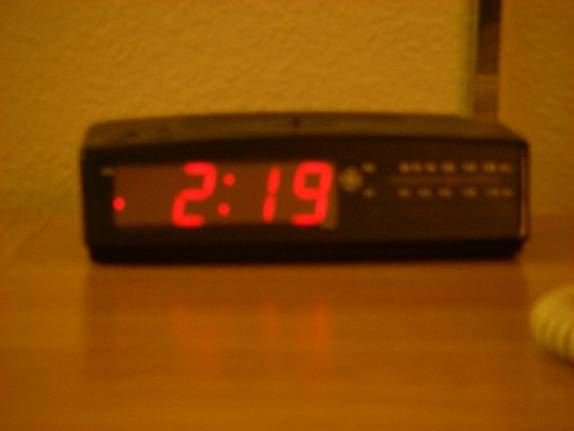 <![endif]>
By we were getting the day's first receipt in Julesburg, Colorado. From there, we went back into Nebraska, through South Dakota, Wyoming, North Dakota, and finally Montana. Today's ride gave us partial rain in Nebraska, South Dakota and some in Wyoming. The weather turned sunny in Montana and actually started to feel warm.
<![if !vml]>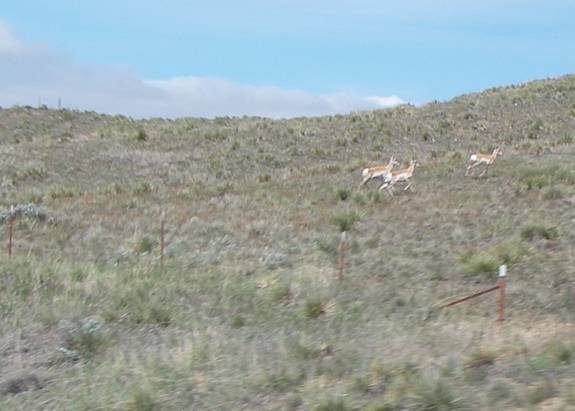 <![endif]>
We had a very uneventful day. Montana had beautiful landscapes and large, wide open skies. Only one time did a pair of "jackalopes" run out into the road in front of us and crawl through the fence on the side of the road. They gave us plenty of time to see them and slow down. We arrived at our hotel, a Comfort Inn, in Butte, Montana at . It had been a long, but good 998 miles. We checked in, unpacked, showered, ordered Papa John's Pizza, and crashed for the night.
<![if !vml]>
<![endif]>
Day 3 May 29, 2208
Day 3 began as did Day 2. The Screaming Meanie told us it was time to wake up at . By , we were getting our first gas for the day and continuing through Montana. Morning riding isn't very fun, since you never know what nocturnal creatures may be lurking around every blind corner. Fortunately, this morning, the nocturnal creatures seemed to be content to stay in the woods, where they belong.
As dawn approached, we found ourselves riding through the "broomstick" of Idaho. This was beautiful, mountainous country. There were, however, many small deer lurking at every corner through the mountains. We rode through this part of the state far slower than Montana It was very cold, which is why I didn't take off my glove to take pictures, but the scenery was breath taking.
As we left Idaho and entered Washington, the rain and the cold joined us. Washington was very boring and very flat. Once we entered Oregon, at , the rain was coming down hard. The gas station attendant was not friendly and almost didn't allow us to get a receipt. I believe I might have been a bit terse, but managed to get our receipt. I also had to explain to the "really-smart" clerk inside the gas station, that yes I was cold and wet but you can ride a motorcycle in the rain. Really-smart people in Oregon…???
As we were riding through the wet, twisty, mountain roads of Oregon, we came to a curve where the road had about an inch of standing water. The BMW hydroplaned through the curve at about 80 mph. This was very unnerving for Jeff and totally scary for me. Both wheels lost traction. It ended without incident, as we were still upright. I was glad when we made our way back into Idaho and the rain began to dissipate. As we arrived in Burley, Idaho at about , we decided to have a Subway sub at the gas stationed we pulled into. This gave us a chance to dry out and relax for 20 minutes. It had been a long, wet and cold day with more miles still to drive.
We left Idaho and drove into Utah. I find Utah one of the most beautiful states in the USA. After 3 dry hours, the storm clouds in the distance, over the snow covered mountains, looked very ominous. We rode through beautiful mountains and through towns with names such as: Snowville. The scenery was beautiful and I took lots of pictures. We followed a State Trooper almost all the way into Salt Lake City. This kept us following the speed limit, but made for good, clear pictures. The rain began again as we rode through the mountains. It turned to sleet for a few miles. We stopped for gas and Jeff noticed that the ABS warning light was on. The brakes were still working fine. He purchased an extra brake light bulb, just in case. I figured that a connection was simply wet and causing the problem. The gear indicator was also stuck in 4th gear. Perhaps this was also a result of all the rain. Neither issue was of any great concern. Jeff said the Metzler ME880 tires were a 'little squirrelly' in the wet.
Finally, we pulled under the canopy of our Comfort Inn, just outside of Salt Lake City, in Layton, Utah. Right at this moment, the sky really opened up and it began to pour. There was loud thunder and plenty of lightening. We were both glad to be stopped for the night. We checked in, unpacked and laid out our gear to dry. It had been a very long, wet, cold 953 miles, due to the poor weather conditions. We showered and were off to sleep. Day 3 was complete.
<![if !vml]>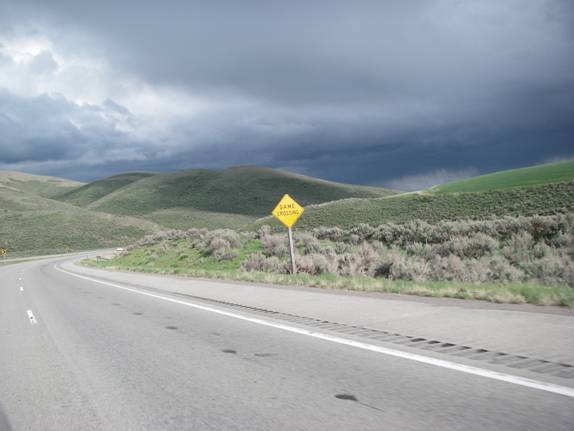 <![endif]><![if !vml]>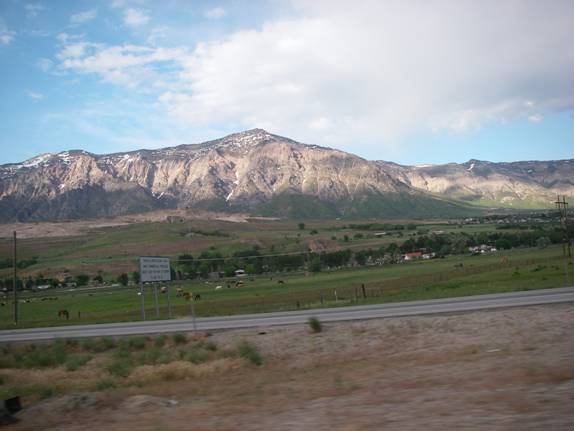 <![endif]>
Day 4 May 30, 2008
Like the three previous days, Screaming Meanie told us it was time to get up at . This was going to be the highest mileage day of the trip. We needed to be up and out. Today we chose mesh gear, as the weather was hot and humid. We drove through Utah with daylight showcasing the beautiful red rocks. This made for some great pictures. There was a bit of road construction, but nothing too bad. We hit Las Vegas during rush hour. It was a hot wait in traffic, but led to good pictures. By , we were in sunny California. Gas was $5.45gal. We filled up with gas and bought a small bottle of Johnny Walker, anticipating that we might want some by the end of the day…
We traveled through Arizona and New Mexico. The day was hot, but uneventful. We were both excited to check into our Comfort Inn in Albuquerque, NM knowing that we had just completed 1100 miles, with no rain and no issues. We would be able to sleep in (until ), in the morning and enjoy a real meal. We drank some scotch and walked over to the nearest restaurant, which was Fuddruckers. We enjoyed steak and beer and then crashed for the night. Sleep once again came easy. It was my birthday.
<![if !vml]>
<![endif]><![if !vml]>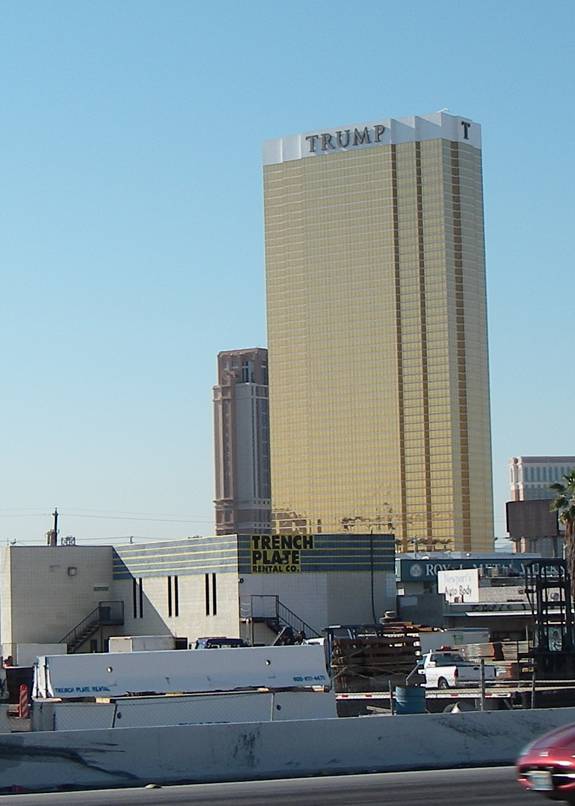 <![endif]><![if !vml]>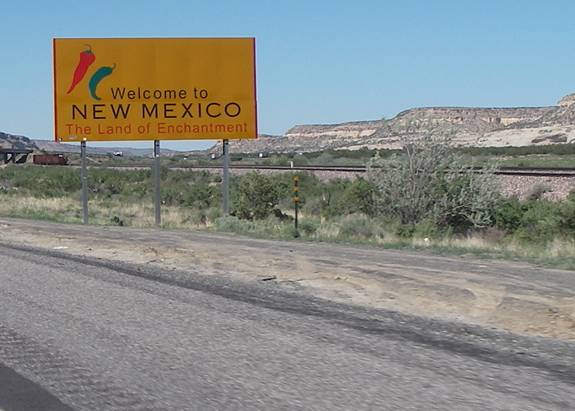 <![endif]>
Day 5 May 31, 2008
(The easy day)
We woke up this morning at after a great night sleep. Today was going to be a fun day, because we were only driving 648 miles. We would be in Oklahoma City early and able to enjoy a nice meal and get another good nights sleep.
We began our journey out of New Mexico and through Texas. We needed to stop in Texas to take off some layers, since the temperature was in the upper 80's and very humid. We pulled into the gas station and found that is was out of business. We decided to change and re-hydrate. We sailed through Texas and into Oklahoma. It was hot and we were anxious to get to our hotel and enjoy the half way point of our adventure.
We stopped for gas in Eric, Oklahoma. Only 3 ½ hours to go. We were both very hot. As we were passing a truck, we both heard and felt a grinding/thrumming sound coming from the rear of the Beemer. We pulled off at the very next exit to assess the problem. It was . Jeff knew instantly what the problem was. It was a final drive issue. We were unable to drive the BMW. We thought that our trip was over. We would be spending the next few days in Oklahoma, getting the bike repaired and driving back to Shorewood with our mission incomplete. How could this happen to us? We had completed the four hardest days of our trip. We were on a roll and feeling good about the prospects of completion. Now, the bike was just sitting there resting on its side stand. The bike seemed to say; "I gave it my all, I'm really sorry guys, but I just can't go on anymore."
Jeff stepped into action and called the BMW dealer in Oklahoma City. He spoke with Chad, the head mechanic, who told him that he would look to see if he had a final drive available for our BMW. I got out the card with the phone number for the towing company, so we could get to the BMW dealer, 49 miles away. After waiting in the hot sun for 15 minutes, Jeff called Chad back at BMW. He thought he might have the necessary part, but hadn't had a chance to look. We decided we would slowly drive the BMW back to the dealer, after waiting for Chad to call us back and let us know if our dream might still be alive. We waited another 10 minutes and just decided to head to Oklahoma City. The F/D wasn't leaking yet, and there wasn't any play in the rear wheel. Just a very loud thrumming with each and every wheel rotation…You could feel the bearing grinding away through the foot pegs. Jeff was scared the wheel might come loose, but never told me.
Jeff and I decided to disconnect our intercom, so we could hear if the bike was making anymore strange sounds, as we limped it back to the dealer. Since Jeff couldn't hear me, this is where I lost it. The tears began to flow, and no matter what I did, I couldn't make them stop. The large semi trucks that we had passed before, were now zooming past us. I kept checking the phone, hoping there would be a message from Chad, saying he had the part. There was nothing, no phone calls. I was convinced that our trip was over. We were done. Suddenly, my phone began to vibrate. Could it be Chad? I opened my phone to read the message. It was Ann, telling me the kids were having a blast playing in the park. I was devastated again and resumed my crying. I was now thinking about telling family and friends about our failure. They would try to console us and make us still feel like we could have done it. It just wouldn't be the same. When would we have this opportunity again? What would we possibly do in Oklahoma for the next few days? When would I stop crying? We were now only 10 long, hot, miles away from the BMW dealer. I had to stop crying, so Jeff wouldn't feel worse than he already did.
We pulled into the service garage at the BMW dealer. Chad was expecting us and had two final drives on the ground. Would one be a match? It was obvious that one wasn't a match. Chad picked up the second final drive and brought it over to the bike. Jeff looked for the numbers on the BMW. He read them off and Chad matched them to the final drive in his hand. It was a match. Now, Chad had to open up his final drive and make sure it had already been rebuilt and was ready to go. Chad placed the final drive on the bench and meticulously took out the screws. He opened up the cover and spun the bearings. The final drive was like new inside, and ready for transplant into our BMW.
<![if !vml]>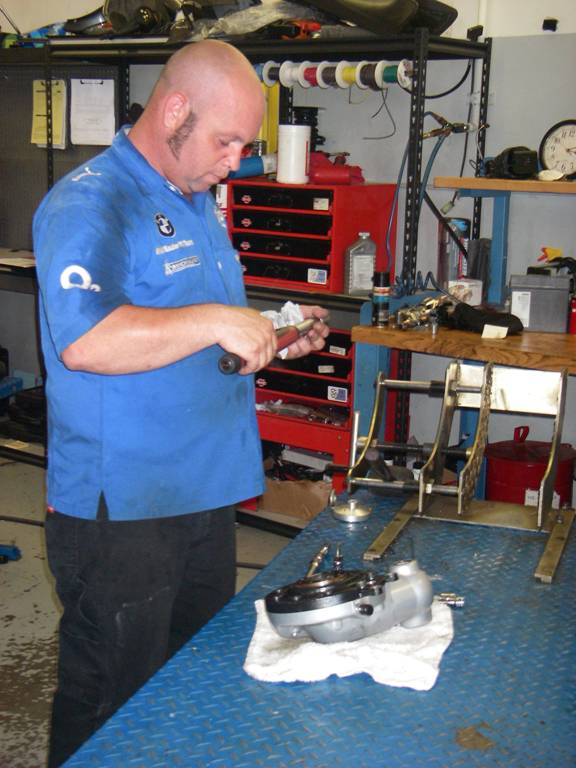 <![endif]>
The mechanic next to Chad, told us we could wait in the front of the BMW dealer, while Chad performed the work. Little did he know that we were not about to leave our bike unattended. At that moment, it seemed as though we were in a hospital operating room, waiting for the doctor to perform open heart surgery. There was no way we would miss even a second. What if the patient died on the table? We needed to be there until the end.
Chad got the bike up on the lift and began the removal of the faulty final drive. His skillful hands and speed gave the appearance that this was a repair he had done before and he certainly knew his way around our bike. It had to be 90°F in that shop. Chad kept wiping sweat from his eyes as he masterfully completed the transplant. Jeff watched as every nut and bolt was turned and tightened and torqued to spec. With a little help from Jeff, Chad had the patient off the lift and ready to go in just under two hours. What a GREAT mechanic! We can't begin to thank Chad and the kind folks at BMW Motorcycles of Oklahoma. Chad literally saved our trip and got us back on the road.
<![if !vml]>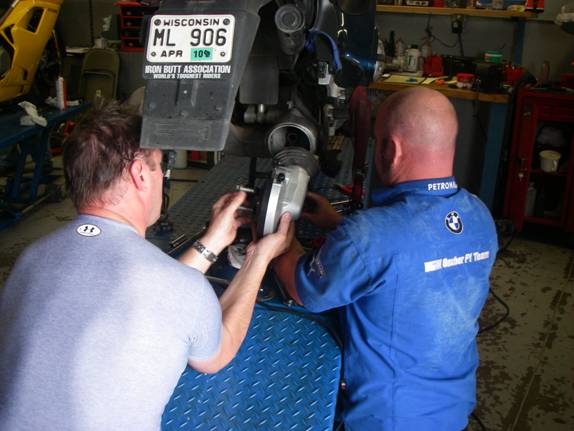 <![endif]>
<![if !vml]>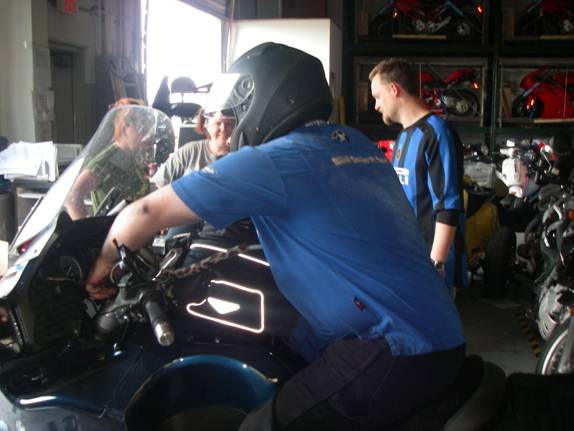 <![endif]>
<![if !vml]>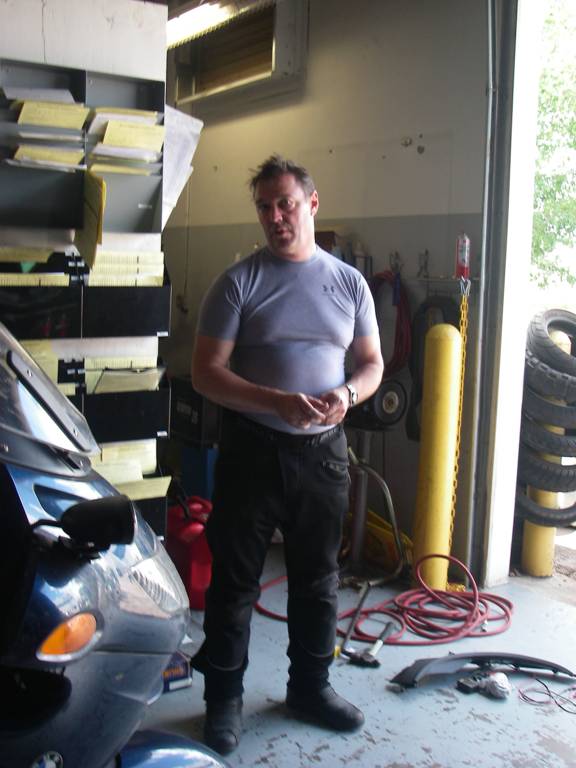 <![endif]>
Now for the true test of the repair…Chad took the BMW off the lift and took it for a test ride. This made Jeff quite uncomfortable, since he rarely lets anyone ride that bike. Five minutes later, Chad pulled up with the bike given a clean bill of health. With our wallet $547 lighter, we were back on the road. It was . We only had 95 miles to go to our destination of Okmulgee, Oklahoma.
Amazed, overjoyed, grateful, thankful are only some of the many emotions we experienced at that particular moment. Our trip wasn't over. We were really back on the road. Someone was truly watching over us. Thanks to everyone for their prayers and well wishes!
We hit major traffic 30 miles from Okmulgee. We were hot and exhausted, and stuck in a 7 mile back up. Finally, a BMW GS snuck by us on the left shoulder. We decided to follow and drove up to the front of the traffic jam. The temp gauge was maxed out, we were out of hydration, and the heat was taking it's toll. We arrived at our hotel, a terrible Days Inn in Okmulgee, Oklahoma at . We were overjoyed that we were still riding.
As we started calling home to let everyone know of our adventure, we noticed that if we touched any part of the door frame to our hotel room, we would get an electrical shock. Just what we needed, we survived the bike breakdown, but now we would get electrocuted in our hotel room. We made sure to never touch the door frame.
We decided that we both had no clean clothes left so we did a load of laundry and walked across the street to a local Italian restaurant. The food was great and the beer was cold. Our short easy day had just turned into the longest most stressful day of the entire trip. But, all was right with the world and we were about to drift off to sleep. We turned on the TV to try and catch the national news when we saw that tornado warnings were flashing for the town we were in. What next, the bike just got fixed and now it would get blown away by a tornado? We were both so exhausted that we fell asleep anyway, tornado or not. What an exciting day!
<![if !vml]>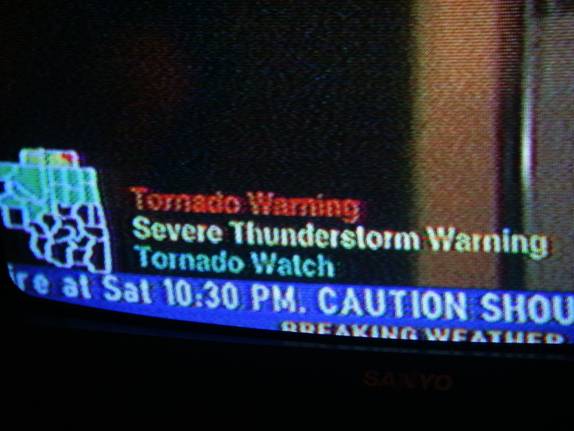 <![endif]>
Day 6 June 1, 2008
We're still riding. We woke up knowing just how lucky we were. Any other day or place to break down and the trip would have been over. Today was going to be another long day. We did some last minute re-routing to keep us on the interstate and bypass some potential trouble areas. This way we wouldn't have to worry about nocturnal creatures as we traveled in the dark. We were up and out and on the road before .
We rode through Arkansas and Louisiana. In Louisiana, I had to go across the street and buy water at the gas station, since the original receipt we got didn't have the city and state on it. Today, we just put on more hot, long miles. We dipped into Florida and stopped at the Piggly Wiggly where I bought a cold Fosters for later. From there, we drove to our hotel in Montgomery, Alabama.
Once checked in, we ordered pizza from the Dominos across the street. It took 45minutes to arrive and it was bad. It was food and we were hungry. It served its purpose. Day 6 was uneventful and we were happy to shower and sleep.
<![if !vml]>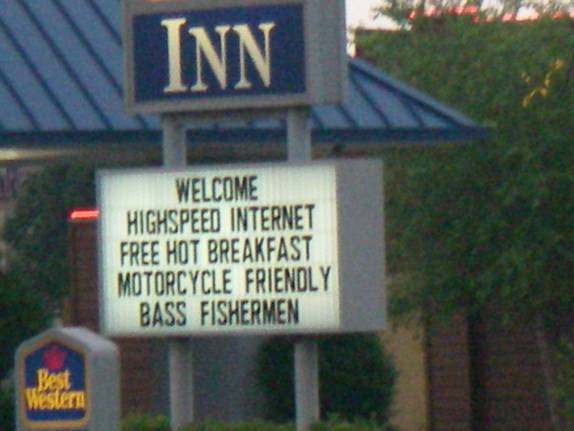 <![endif]>
Day 7 June 2, 2008
We were up and out early. It was and I was getting on the back of the bike in the dark parking lot. A car pulled up next to us with a scary guy smoking a cigarette. He wanted to know what room we were in and who was with us. He was creepy, so we simply drove off. We hit Atlanta before the start of rush hour and were able to maintain a comfortable speed through Atlanta. It was fun to drive zip through the traffic, knowing in another hour it would be at a dead stop.
Today we hit many states. The weather was sunny but cool. Our first truly comfortable, sunny day. We drove through South Carolina, North Carolina, and Tennessee without issue. We finally dipped into Kentucky for some of the twistiest roads but poorest people. We couldn't seem to find any open gas stations in Crank, Kentucky, so we pulled into the U. S. Post Office and bought a stamp. Onto Virginia where radar detectors are illegal.
These were some of the best roads of the trip. We rode on the Country Music Trail. It made for a fun 800 mile day.
We checked into our Comfort Inn and walked across the street for a meal at Ruby Tuesdays. It was food, nothing special. Back to the hotel and off to sleep for another exciting day.
<![if !vml]>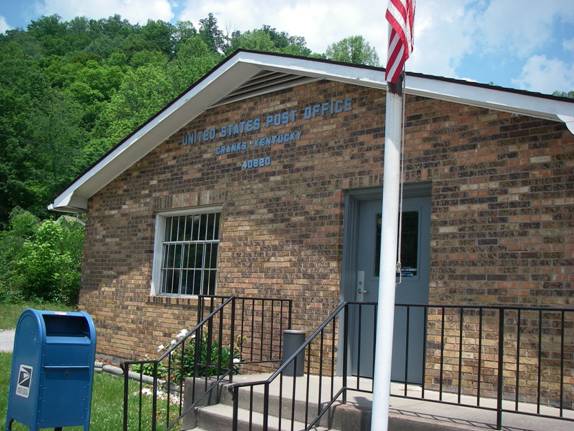 <![endif]>
Day 8 June 3 2008
Day 8 started at . We were up and out early. We rode through West Virginia and back into Virginia. After being on the bike for 20 minutes, we suddenly hit a large metal or cement object in the far left lane of the road. It made an awful sound. We immediately pulled over into a hospital parking lot. Did something get damaged on the bike? Would this be the end of the trip again? My heart stopped as Jeff was checking out the underside of the bike with a flashlight. All seemed to be OK.
Now-the task of riding through the densely populated East Coast. Today was the day I was dreading. We had 797 miles planned and 8 states to get receipts from. We decided we could accomplish this and would ride until we reached New Hampshire.
Maryland was the next state. We were delayed in Washington DC traffic for some time. We made better time to Delaware but then got stuck in endless, hot traffic in New Jersey. This happened twice as there were two bad traffic accidents with what looked to be fatalities. From New Jersey we went to Pennsylvania and then to New York, Connecticut, Rhode Island, Massachusetts, Maine, and then finally New Hampshire where we were met again by rain.
A large sign with a special exit for the New Hampshire State Owned Liquor Store drew us in. We had the opportunity to re-stock for the remainder of the trip. We finally made it to our hotel at . We checked in, ordered Chinese food to be delivered and enjoyed our accomplishment. The Chinese food cost $40 and was worth about $4.00… I thought Today was by far the hardest day of the trip and we made it!
<![if !vml]>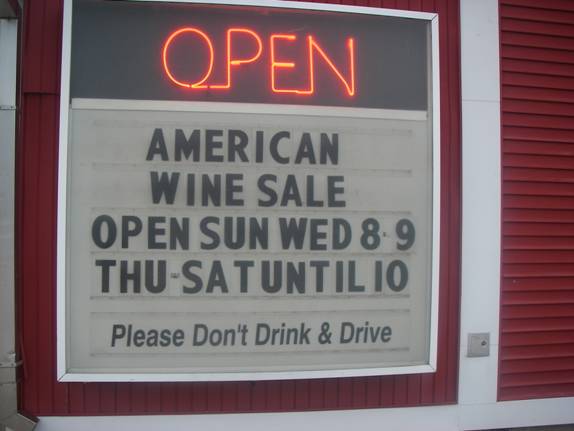 <![endif]>
Day 9 June 4, 2008
Oh Canada
We decided to sleep in (). Today was another short day, only 498 miles. We would end up in a nice resort in Niagara Falls, Canada. We left at sunrise only to encounter more rain. We drove through beautiful Vermont and Upstate New York. I wonder if it would have been even more scenic if we weren't always enjoying rain?
The rain cleared and by we were entering Canada. We paid the tolls and showed our passports. We were officially in Canada! We checked into our resort. What an awesome place. We drank our tequila from New Hampshire and decided to walk to the Falls. We took fun pictures, looked at Niagara Falls. We found a fun looking restaurant overlooking the falls. We had a good meal and walked back to our hotel. By , we were both sound asleep. No birthdays for anyone.
<![if !vml]>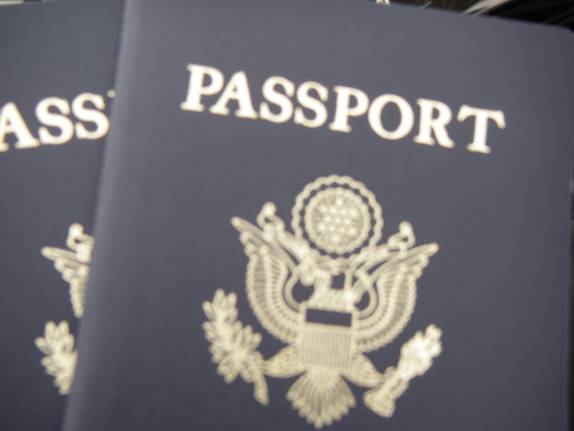 <![endif]><![if !vml]>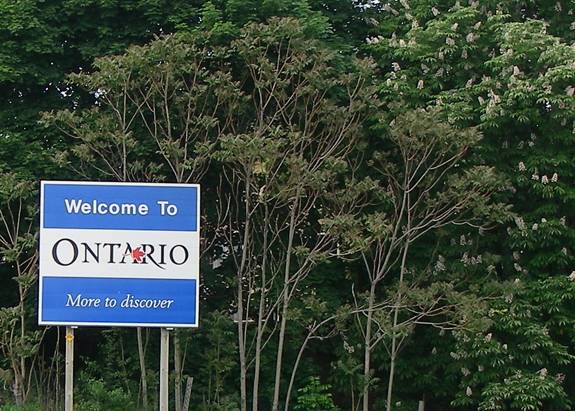 <![endif]><![if !vml]>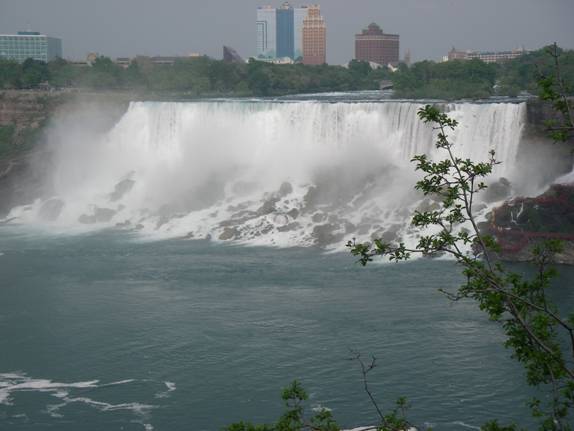 <![endif]>
Day 10 June 5, 2008
We slept in. As Jeff was inspecting the bike, he noticed the rear rim had an awful dent. When we were in New Hampshire, we hit a sharp cut in a road under construction. Even though we both flew off the seat, we thought nothing of it at the time. Jeff checked tire pressure and noticed the back tire was down about 4 pounds. He added air and soon we crossed over Lake Erie, and were back to the good old USA.
Once we entered the US, the rain began. I was getting text messages telling us that there were huge storms in Michigan, Illinois and Wisconsin. Fortunately, our route had us going around the storms (or were the storms were going around us?).  We managed to stay mostly dry as we drove through Michigan, Ohio, Indiana and Illinois. At , we obtained our last receipt in Illinois. From there, it was 80 miles to home. We had completed the 48-10, thanks to the help and prayers from many..
The time went by incredibly fast, except for day 5 when the bike broke down. We wouldn't have been able to take on the challenge if it weren't for the help of Colin, Ann, Cindy, Nikki, Bradley and everyone else who sent text messages and kept us in their prayers daily.
Eplilogue
In all good route planning was probably the key to our 8600 mile adventure. We were also careful to prep the bike thoroughly. One set of tires (ME880's) made the whole trip. We used synthetic oil, so that went the distance as well. (1/2 qt. consumed) Having the intercom, GPS, XM Radio, iPods, V-1 and plenty of books-on-tape(.mp3)  made the slab time go by really fast. We averaged about 13-14 hours a day moving in the saddle. Worst case was 4 hours sleep, but we averaged 5-7 hours. Grand total costs were  < $3000 (including the S.P.O.T. and V-1) the but we had saved a bunch of motel points, and only paid for 2 nights lodging.
You can see our route here:
The S.P.O.T.
<![if !vml]>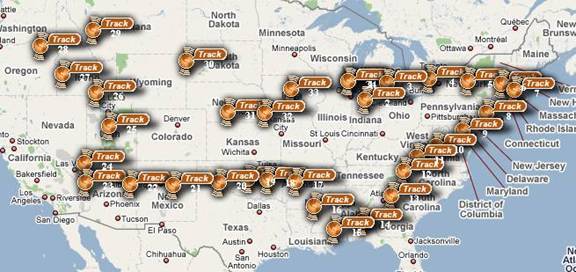 <![endif]>
The GPS
<![if !vml]>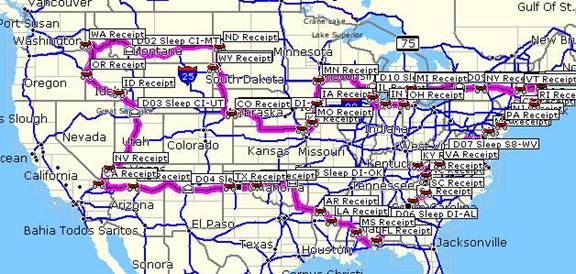 <![endif]>
Rest up….the 2009 IBR is only 14 months away!
<![if !vml]>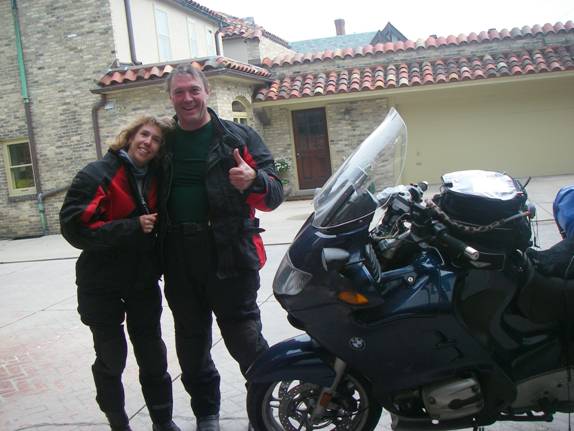 <![endif]>
More pics here http://picasaweb.google.com/nfremder/JeffAndCarolS4810Trip?authkey=blqamKyyHZA